Phanteks Enthoo Luxe Satin Black- Multi-color Aluminium Full Tower Case
Mô tả
Model: Phanteks Enthoo Luxe Satin Black- Multi-color Aluminium Full Tower Case

Tình trạng: Mới 100%

Bảo hành: 60 Tháng

Xuất xứ: Chính hãng

Thương hiệu: Phanteks

Thông số:
- Phanteks Enthoo Luxe là một phiên bản nâng cấp của dòng Enthoo Pro rất được khách hàng ưa chuộng tại Việt Nam .

- Với thiết kế mặt trước và phần trên nóc bằng nhôm cực kì sang trọng , Phanteks Enthoo Luxe còn làm nên cuộc cách mạng về màu sắc với 2 dãy đèn LED cao cấp sản xuất tại Nhật Bản cho độ bền cao được bảo hành 02 năm toàn cầu* . 2 dãy led có khả năng thể hiện đến 10 màu sắc đảm bảo phù hợp với bất kì tông màu nào bên trong hệ thống muốn thể hiện .Bên cạnh đó , Phanteks đã tính toán rất kì phần Led được đi ngầm không làm chói mắt khi đặt thùng máy trên bàn cho sự thoải mái hoàn toàn khi sử dụng .

* Bảo hành theo tiêu chuẩn của Phantek 2 năm cho đèn Led , 5 năm cho quạt và thùng máy .

- Review sản phẩm từ trang thông tin nổi tiếng : Hardware Canucks :


Phanteks Enthoo Luxe ATX Full Tower Computer Case
Staying true to the Phanteks' Enthoo line, the Luxe features a sandblasted front and top panel. Ambient lighting run from top to front of the case on both sides. Even though smaller in size, the Enthoo Luxe boost many features from the award-winning Enthoo Primo. The Luxe comes pre-installed with a 200mm front fan and two PH-F140SP fans. Phanteks' Enthoo Luxe has an extensive watercooling capabilities that allows for four different radiator mounting locations as well as sizes.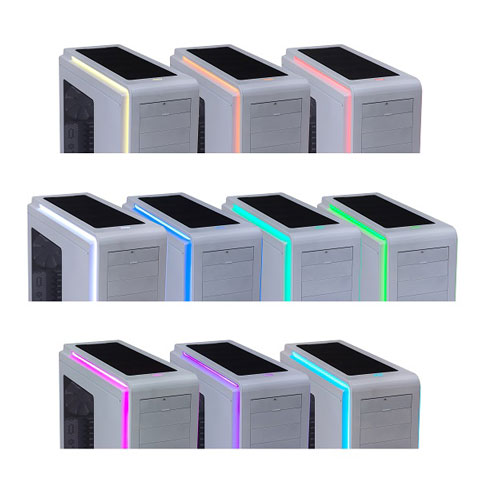 Features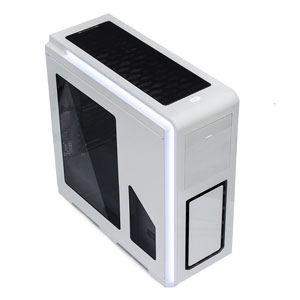 Enthoo Luxe includes 1 x 200mm fan in front, 1x 140mm fan up top, and 1 x 140mm fan in the rear. Ability to upgrade with additional fans is possible. All fans included are Phanteks' new redesigned and better performing SP Series fans.
Appearance:
Sandblasted aluminum faceplates with matte finish / glossy white aluminum faceplates
Multi-color ambient lighting
Stealth interior design
---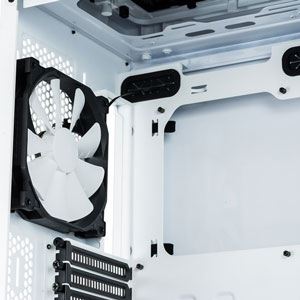 Cooling:
Extreme cooling capacity
Support for up to 8 x 120mm / 7 x 140mm / 2 x 200mm fans
Comes with 3 Phanteks premium fans
PWM fan Hub allows for 6 fan connections (11 fans max with additional y-splitters sold separately)
Extensive water cooling support. Provides up to 4 different installation areas for slim and thick radiators varying from single to triple (120mm and 140mm form factors). Clearance for push-pull fan configurations.
Innovative liquid cooling mounting systems: radiator brackets for easy installation
---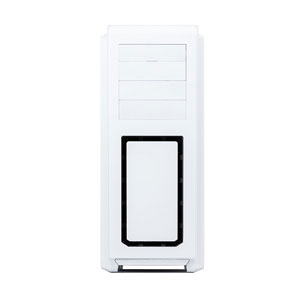 Functionality:
Dual removable hard drive cages
2 x removable Drop-n-Lock SSD brackets
Fully equipped with dust filters (1 x top, 1 x front, 2 x bottom)
Removable top mesh panel for easy fan installation and dust filter cleaning
Compartment for fan installation in top panel
Clean cable management using Phanteks' preinstalled Hook-n-Loop cable ties
Removable PSU cover
Mod-friendly structure uses screws NOT rivets
10-Color ambient lighting controller
2 x USB 3.0, 2 x USB 2.0, microphone, 3.5mm audio jack
Gallery